Last fortnight Ravi Shastri, ex-cricketer of the Indian team, added yet another feather to his cap. In the past he has been caption of the cricket team, collaborated in starting up Showdiff Worldwide, a celebrity management company, served the ICC and BCCI in temporary official capacities and has been a UNICEF Goodwill Ambassador. In his latest avatar, Shastri has signed on as mentor and advisor to Greycells Education Ltd, a leading vocational training BSE-listed company with its own centres across India and Dubai.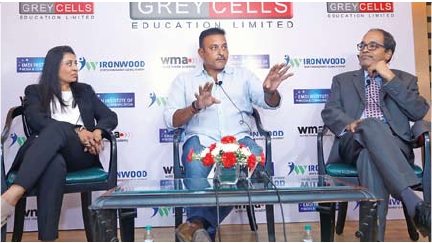 Greycells conducts focused industry-relevant vocational training courses under the brands: EMDI Institute of Media & Communication (EMDI), World Media Academy (WMA) and Ironwood Sports Management Global Academy (ISMGA).
Greycells was founded by Sanjiv Chainani, Bela Desai and Value Line Advisors Pvt Ltd. "Ravi Shastri brings immense value to Greycells Education considering his established track record in mentoring. It is indeed challenging to find mentors such as him who've been in the industry in various capacities with such dedication to sports at multiple levels. His knowledge of cricket, team spirit and mentoring is immense and this will help Ironwood realise its ultimate goal of bringing the best out of our global academy," says Desai.
The partnership initiative is aimed at giving India's demographic dividend, a sports development perspective – boosting the momentum towards building a sporting temperament in the country. Shastri's role will be to mentor young talent to shape up in the business of sports, sporting events and digital media in sports, to ultimately build India as a great sporting nation. "I am quite excited about the new innings. I look forward to interacting with young minds that are not just enthusiastic about sports either as talent or spectators but also in the management side of the game. This initiative will ultimately help build an integrated sporting culture and temperament in the country," says Shastri, who will work closely with the advisory board and faculty of ISMGA to help design an industry-ready curriculum and provide enhanced exposure to students through increased engagement with industry professionals and participation in sporting events on a regular basis to garner on-field knowledge.
ISMGA is perhaps India's only institute offering a global education in sports management across India and Dubai. The course is supported by Promoseven Sports Marketing, Dubai. ISMGA offers job-oriented course for candidates interested in sports management, encompassing strategic management of sports, sports marketing, sports facility management, sports law and risk management, athlete management, team management, use of digital media in sports, sports entrepreneurship etc. Students enrolling for the global course have an opportunity to intern with international companies and get hands-on experience on events in Dubai.
Shaping businesses and talent
As part of the effort to build greater synergy between industry and academia, Greycells Education also announced an association with advertising industry stalwart, Nagesh Alai (right), former group chairman of FCB Ulka group as mentor and member of the advisory board for their vocational course on advertising and integrated marketing communication being offered by EMDI. He will be closely involved in designing the base course content and imparting experiential training to candidates with the right talent that can help support the ever-growing advertising and public relations business in the country. "Having spent decades in the industry shaping businesses and talent, it is time to go back to the classroom to share insights, experiences and learning to help build a whole generation of new-age communicators who will be successful in building brands and tell riveting stories of people, brands and institutions. Attracting and retaining the right talent has always been a serious challenge for the advertising industry and Greycells Education will be a great enabler in providing a steady stream of vocationally trained talent to the industry that is poised to grow exponentially."
According to Shastri, Greycells Education has been a pioneer in training students in event management long before the need was recognised and has created a huge talent pool of event management experts. This initiative will facilitate specialisation in sports event management and this augurs well for the events business which is on the path of obtaining 'industry status'.
This story was originally covered in Business India Magazine.
Write to us at news@valuelineadvisors.com