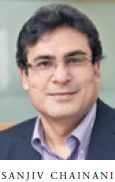 Normal monsoons to boost economic growth
Over half of the India's population lives in villages and is dependent on agriculture for their primary subsistence, though contribution of agriculture in the Indian economy is just around 15% of the GDP. Rural India provides huge boost to demand for industries which are directly or indirectly dependent on agriculture and are dependent on disposable incomes of rural population such as FMCG, Consumer Durables, Auto and Auto Ancillaries (especially 2-wheeler), Fertilizers and pesticides, farm equipment, micro irrigation, etc.
Around 60% of India's arable land is dependent on monsoon rains. Monsoon forecasts are very closely tracked by various stakeholders tracking Indian economy. Strong monsoon helps in higher production of food grains, lowering food inflation, increasing agricultural sector GDP, driving rural income. Bountiful monsoon lowers government subsidies and reduces fiscal deficits, thereby lowering inflation and interest rates. It provides kicker to the economy as a whole and stock markets tend to rejoice such positive news.
Initial forecasts by Skymet Weather Services Pvt. Ltd for year 2015 predict normal monsoons. As per their forecasts, monsoon rainfall is expected to be 102% (+/- 4%) of the long term average (LTA). There is 36% probability of above normal rainfall, 6% for excess rainfall and only 2% probability of a drought this year. Indian Meteorological Department (IMD) is also expected to release its forecast for upcoming monsoon later in April.
This year El Nino has arrived much later than predicted and is currently in the neutral phase, thereby not having major impact on weather patterns in the country. Weaker El Nino could be good news for the Indian monsoon season. After below normal monsoons last year and considering the state of current economy, it is extremely important for the country to have normal monsoons as deficient rainfall could derail government's efforts on economic revival.
Last year in 2014, El Nino had created havoc across the globe changing weather patterns. India too experienced delayed rainfall and had bad monsoon season. Monsoon rainfall was 88% of the long term average i.e. about 12% below normal, the worst in five years, thereby resulting in sharp rise in agri-commodity prices across the country stroking food inflation. Higher food inflation had cascading effect on the overall economy.
Despite forecast of normal monsoons for 2015, there are immediate concerns due to unseasonal rains and hailstorms in various parts of the country which have damaged standing Rabi crop such as Wheat, mustard and grams. Government estimates food grain production to decline by over 3% in 2014-15. Skymet forecast suggests more showers till 1st week of April.
Historically since year 2002, India has experienced 'Deficient or 'Below Normal' monsoons in 2002, 2004, 2009, 2012 and 2014. In the years of deficient or below-normal monsoons, the country has witnessed lower production of Kharif food grains, thereby affecting disposable income in the hands of farmers.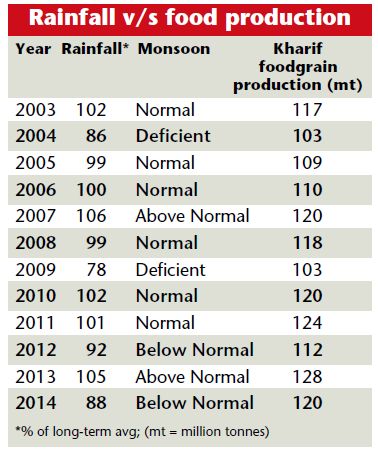 A Normal monsoon is expected to bring respite to the ailing two-wheeler auto segment, which is experiencing turbulence in the recent times. Most OEMs in the two wheeler segment registered fall in monthly sales volumes in Feb-2015. Hero Moto Corp witnessed 3.85% y/y decline in sales, Honda Motorcycle witnessed a marginal drop of 2.25% in its motorcycle sales, Bajaj Auto witnessed a sharp 22.3% fall in sales volume. As per recent forecast by Society of Indian Automobile Manufacturers (SIAM), 2-wheelers market is expected to grow at 8-10% in FY-16, much better than in FY15.
While there is no doubt about impact of monsoon on Indian economy, its impact on stock markets is not structural in nature. It has more sentimental impact on the stock markets, that too only in the short term. Markets disregard monsoon developments in the medium to long term. As the economy is seen changing gears, positive sentiments due to normal monsoon will only help in driving markets higher in the days to come.
This article was originally published in Business India Magazine.
Write to us at news@valuelineadvisors.com
Disclaimer: The views expressed in this article are personal and the author is not responsible in any manner for the use which might be made of the above information. None of the contents make any recommendation to buy, sell or hold any security and should not be construed as offering investment advice.