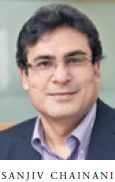 Seems to be a distant dream as of now
Ever since Narendra Modi's government took guard at the Centre, there has been huge pressure on the government to perform and bring Indian economy back on high-growth trajectory. The government is taking all steps required to strengthen its finances and is busy framing right policies to restore investors' confidence. The improvement in macro indicators is already visible.
IMF has projected India's GDP growth to surpass China's in 2015-16. Some sections of the media have gone to the extent of projecting India as the next China. One should not be surprised to hear such statements, given the strong track record of Narendra Modi in developing Gujarat.
Can India really become the next China? Can India's economy catch up with China anytime soon? Let us do a reality check. Chinese economy was as big as India's in the mid 1980s, before it took off aggressively three decades back. Since then, China has grown by leaps and bounds and the gap between the two countries has widened over the years. China is now much ahead of India, be it size of the economy, per capita income, investments and savings, infrastructure development, urbanization, installed capacities, technology, etc.
China has over three times larger land area than India. It has a population of 1.36 billion, which is just 8 per cent more than India's. China's GDP of about $10 trillion is over five times larger than India's GDP, which stands at about $2 trillion. China's adjusted net per capita national income is four times that of India, while its total reserves in 2013 stood at $3.88 trillion, which is 13 times more than India's total reserves.
China has reached this gigantic size through furious growth since mid-1980s. This growth has primarily come through infrastructure development and spending heavily on building manufacturing capacities. China's gross fixed capital formation (GFCF) has grown at a CAGR of 18.3 per cent between 1990 and 2013, as against India's growth of 8.9 per cent during the same period. China's GFCF is 47.3 per cent of their GDP, while India's is 26.7 per cent of its GDP.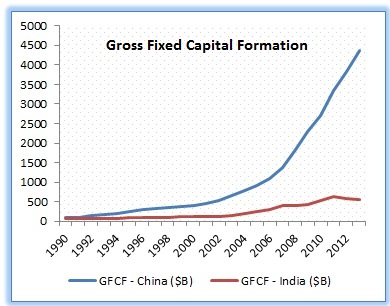 Despite such aggressive growth, China has succeeded in keeping inflation under control. China's Consumer Price Index (CPI) inflation has averaged 4.5 per cent in the last 25 years, as against 7.9 per cent in India. In 2014, China's CPI inflation was 1.99 per cent, as compared to 6.35 per cent in India. Lower inflation has helped it keep the lending rates lower at 5.6 per cent, as against 10.25 per cent in India. China's domestic savings in 2013 was 52 per cent of its GDP, while India's measured only 30 per cent.
Due to such massive investment in infrastructure, China has managed to achieve urbanisation at a brisk pace. In 1985, 22.8 per cent of China's population was urban, which grew to 53.2 per cent in 2013. During the same period, India's urban population had grown from 24.3 per cent to 32.0 per cent.
China's total export in 2013 was $2.44 trillion, which is larger than India's GDP. Due to the huge manufacturing capacities, which were supported by better infrastructure, China was able to produce goods at lower costs. Cost of import and export per container in China is 45 per cent and 38 per cent lower respectively as compared to India, providing additional cost advantage. The logistics performance and the quality of port infrastructure in China too is much superior to India.
Over the years, China has installed huge power capacities to support its economic growth. It has installed power capacity of 1,360 GW, which is five times that of India's 260 GW capacity. China has made the creation of a unified national grid system a top economic priority to improve the efficiency of the whole power system. China's installed hydro power capacity in 2014 was 302 GW (22 per cent of total capacity), as compared to India's 45 GW hydro-electric capacity.
While India is building its largest, 3,000 MW hydel power project in Arunachal Pradesh, China has already built the world's largest hydro power project, the Three Gorges Dam, with an installed capacity of 22,500 MW. This single project is about half of India's total installed hydro power capacity.
There is no doubt that Indian economy has fallen way behind China's over the past three decades. Looking at the facts, it would be too early to expect India to be the next China in few years. While steps taken by the government of India to revive growth are in the right direction, it is going to take a lot more than just few years of outperformance in GDP growth rate to fundamentally change the reality and achieve China's scale.
This article was originally published in Business India Magazine.
Write to us at news@valuelineadvisors.com