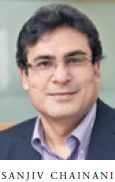 The government plans to accelerate infrastructure investments in the coming budget.
Infrastructure is the backbone of the economy. The growth and development of any economy is linked to the spending on infra projects. Higher spend on the infra has a cascading multiplier effect in the economy, driving GDP growth and job creation.
The Modi government has taken up the challenge to revive economic growth. It has announced measures to improve public finances and has adopted a roadmap for fiscal consolidation, in an effort to get the economy back on a high-growth trajectory. It is aware that the only way to revive economic growth is through public capital spending. It has started reviewing large projects, stuck for multiple reasons, and has asked a team to work in a time-bound manner.
The government of India recently kick-started India's most ambitious '325,000-crore Delhi Mumbai Industrial Corridor (DMIC) project, with an aim to develop new 'Smart Cities' and converge next-generation technologies across infra sectors. The entire DMIC project, over two phases, will pass through six states, spread over 24 cities and covering 5,500 sq km. The government has moved past the conceptualisation stage and is finally seeking bids to build trunk infrastructure, to construct core projects in the Pithampur-Dhar-Mhow Investment Region in Madhya Pradesh.
The government is keen to build a pentagon of corridors across the country to boost manufacturing and project India as a global manufacturing hub, with the clear objective to increase the share of manufacturing in GDP and to create smart sustainable cities. The project will build infrastructure to support the government's 'Make in India' campaign.
Similarly, the newly elected BJP government in Maharashtra has laid top priority on speedy implementation of large infrastructure projects worth over '1 lakh crore in the Mumbai Metropolitan Region. It has set a timeline of two years to complete a `8,500 crore 'Coastal Road' project connecting Nariman Point to Kandivali, as also making the Navi-Mumbai International Airport operational by 2019. It intends to start the much-delayed Mumbai Trans Harbour Link project too this year.
The finance minister has hinted that the forth-coming Union budget will be reform-based, with a clear focus on fiscal prudence through rationalisation of expenditure. Infra funding is expected to be the main focus area. The government intends to boost public investments on infra projects with high priority for sectors such as energy, highways, railways, ports, defence, and irrigation. It is working on innovative ways to finance such large infrastructure projects and is expected to soon come out with several new structures to fund projects.
The government is creating an investor-friendly environment to attract fresh investments. It has relaxed FDI in key sectors such as insurance, defence, construction, railways, and medical devices in an effort to bring in the most stable form of long-term capital and, at the same time, bring the latest technology into the country. It has decided not to appeal against the high court's verdict in Vodafone's high-profile transfer pricing case. The government is also considering deferring GAAR by a few years to avoid souring investor sentiment.
The sharp fall in global crude prices has provided substantial savings for the government. Instead of passing on the entire benefit to the consumers, the government has passed on the benefits partially. Instead it has raised basic excise duties on petroleum products to fund ambitious infrastructure development projects, particularly building 15,000 km of roads in the current and next financial years.
The macro factors are already showing signs of improvement. However, weak corporate results reflect slower uptick at the ground level. This is expected to change over the next few quarters and would start reflecting in corporate results. The government's thrust on infra development in core sectors will boost earnings of infrastructure companies, most of which are currently struggling due to elongated working capital cycle, slow execution, broken balance sheets, and high interest burden. As the government kickstarts a fresh CAPEX cycle with fast clearances and approvals, it will benefit the infra sector, improving its revenue visibility, while the reversal of interest rate cycle will further reduce interest burden, and improve its profitability.
The recent volatility in the equity markets, due to BJP's loss in the Delhi elections and global turmoil due to eurozone uncertainty, has provided an opportunity for investors to buy quality infra stocks. By and large, infra is expected to be the rock star of this Union budget.
This article was originally published in Business India Magazine.
Write to us at news@valuelineadvisors.com
Disclaimer: The views expressed in this article are personal and the author is not responsible in any manner for the use which might be made of the above information. None of the contents make any recommendation to buy, sell or hold any security and should not be construed as offering investment advice.