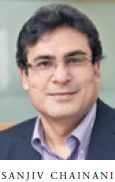 Aadhar has become the Y2K moment for India.
The Unique Identification Authority of India (UIDAI), headed by Nandan Nilekani, former co-founder, Infosys, had launched the Aadhar project in 2009. Since its launch the project has come a long way. Aadhar is a unique 12-digit identification number issued to the residents of India and based on biometric and demographic data. It has now become an identification document for Indian residents.
Aadhar is a revolutionary technological advancement and is the most sophisticated formal identification programme in the world. It is the world's largest biometric ID system, with over 1.133 billion enrolled members as of 31 March 2017. Over 99 per cent of adult Indians have been enrolled in Aadhar.
Aadhar has the ability to revolutionise the country's financial sector. A large section of the Indian population, which was earlier out of coverage of the formal financial system due to lack of proper identification proof, is now being brought into the system by linking their identifications electronically. Aadhar has brought systemic inclusiveness of this informal segment.
The Aadhar framework has the ability to provide financial prosperity to each stakeholder in the system – residents, government and service providers. The government is now linking the Aadhar number with the PAN number, passport and other IDs. It has now been made a mandatory document required for e-KYC services. It is a valid KYC document for opening any accounts – be it a normal bank account, insurance account, prepaid wallet, pension account, securities account, mutual fund account, etc. Using e-KYC services, the KYC data can be electronically verified in a matter of seconds and relevant information can also be auto-uploaded to the service provider's database.
Aadhar is helping plug leakages, inefficiencies, and corruption by making social welfare payments secure and transparent, by enabling the direct transfer of funds into the beneficiary's bank accounts. It has helped remove duplicate and fake identities, making it possible for the government's funds to be transferred efficiently. Once linked to the resident's bank account, Aadhaar also acts as a financial address. It helps in the transfer of government benefits, person-to-person payments, tracking financial transactions, etc. Telecom service providers, financial institutions, etc., can uniquely identify their customers through Aadhaar numbers. Easy tracing of financial transactions of individual customers helps prevent money laundering and terrorist activities. Since the Aadhaar number is unique, it helps link various entities involved in money transactions seamlessly – using one identity only.
Aadhar is playing a significant role in government's drive towards digitisation. It has enabled the efficient functioning of online payment networks, e-wallets, payment banks, mobile banking services through IMPS, in a safe and secure manner. Aadhaar is an integral part of IMPS by becoming the sole address of the beneficiary.
Aadhar helps in the prevention of frauds from theft of credit and debit card details, once it is linked to the card account. Each payment is electronically verified using Aadhaar's authentication system using biometrics or OTP. Thus, Aadhaar has become a second factor of authentication for such card transactions. Also, Aadhar uses one of the world's most advanced encryption technologies in storage and transmission of data, which makes it highly secure system for implementation.
The Aadhar project has seen master execution by the BJP government. It is the historic Aadhar Act, passed by the government in 2016, which gave a strong legislative basis to Aadhar.
As almost the whole country is now part of the formal financial system through Aadhar, India's economy is bound to grow by leaps and bounds, which will result in all round development. Higher tax collection will enable government to increase its spending on roads, railways, ports, healthcare, etc, there by fueling GDP growth.
According to the finance secretary, the Aadhar scheme has helped the government to save over Rs34,000 crore by way of direct benefit transfers, which has already been implemented in 78 schemes. The World Bank, in its 'digital dividend report' published last year, has estimated that, if Aadhaar is used in all Indian government schemes, it will accrue savings of $11 billion every year. These massive savings will help in improving fiscal position of the country. India will see enormous investment flows into the country in the times to come. Aadhar has indeed become the Y2K moment for India.
This article was originally published in Business India Magazine.
Write to us at news@valuelineadvisors.com
Disclaimer: The views expressed in this article are personal and the author is not responsible in any manner for the use which might be made of the above information. None of the contents make any recommendation to buy, sell or hold any security and should not be construed as offering investment advice.