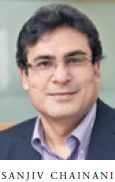 Strong comeback of 'Retail' to power Indian equities to new highs
Indian markets have remained buoyant during last couple of months and have bounced back from lows of 7940 on 12 June to touch 8654 on 23 July as against the consensus view of Nifty touching 7500. Indian markets have shown
tremendous resilience to the turbulence created by the global factors and have surprised the consensus. The strength in the markets is primarily driven by fresh inflows from retail investors.
Indian retail investors had burnt their fingers during the market crash of 2008. The horrendous memories of the crash kept retail investors at bay for a very long period. There was continuous exodus of retail segment from equities.
Domestic mutual fund industry experienced sharp slowdown in fresh inflows into equities in year FY2009 and 2010 after attracting all-time high inflows of Rs439 billion in FY2008. After almost vertical fall in NIFTY in year 2008, the markets rebounded sharply in 2009 and 2010. The bounce proved to be temporary as it was not backed by fundamentals. Between 2011 and 2014 as NIFTY kept consolidating sideways, every bounce was used by the retail as an opportunity to sell. During this period, the mutual fund industry experienced continuous outflows from equities for four consecutive years with cumulative net outflows of Rs334 billion.
After six long years, the domestic mutual fund industry is again seeing some traction in equity flows. The major reversal in fund flows was seen after Narendra Modi-led BJP had a clean sweep in 2014 elections. With a stable government at the Centre and economy looking up, equity schemes are getting strong flows from the retail segment. In FY15, equity mutual funds got all-time-high flows of Rs733 billion, surpassing previous highs of Rs439 billion in 2008.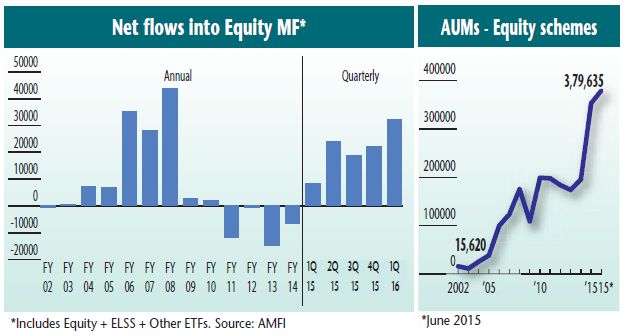 The assets under management (AUMs) of equity mutual funds are up by a whopping 94 per cent rising from Rs1.96 trillion as on 31 March 2014 to Rs3.8 trillion as on 30 June 2015. During the same period CNX-Nifty, CNX Mid-Cap and CNX Small-Cap indices have gone up by just 24.8 per cent, 51.1 per cent and 44.2 per cent respectively suggesting that the rise in AUMs is not just driven by rise in markets, but also by fresh inflows into equity mutual funds.
The number of demat accounts and mutual fund folios have steadily risen over past one year, further indicating growing interest of retail into equities. As per AMFI data, mutual fund folios have gone up by 8.35 per cent from 3.95 crore to 4.28 crore between September14 and June15.
Despite uncertainty in the global markets, the equity schemes of Indian mutual funds have seen huge net inflow of Rs320 billion in the first quarter of FY16 indicating strong interest of retail investors in the equities. This is despite a fall in Nifty from 9119 in the beginning of March 2015 to 7940 in the second week of June. The mutual fund industry has seen over Rs1.05 trillion of net inflows in equities between March 2014 and June 2015. The comeback of retail is a strong indication of change in sentiments on the Dalal Street. The mutual fund managers are able to counter selling pressure of FIIs, improving overall depth of the markets.
Indian equities are in the middle of a multi-year bull-run which has started from 2014. Over last 18 months, equity markets have outperformed other non-financial assets by huge margin. Commodities have provided negative returns and are expected to remain lacklustre in the times to come. Real estate too is on shaky ground. Looking at the inventory built up in urban areas, investors are avoiding real estate for fresh investments. As the economy is showing some stability and earnings growth is expected to gather steam over the next few quarters, the investable surplus is steadily finding its way into equities.
The ongoing turbulence in the global markets may keep Indian equities on the edge in the near term. However, higher participation of retail segment will improve depth of the markets and will make Indian markets more resilient to global shocks. As clouds of global uncertainty disperse, Indian markets will come out strong and hit all-time highs in the times to come.
This article was originally published in Business India Magazine.
Write to us at news@valuelineadvisors.com
Disclaimer: The views expressed in this article are personal and the author is not responsible in any manner for the use which might be made of the above information. None of the contents make any recommendation to buy, sell or hold any security and should not be construed as offering investment advice.